For a little change-up on The Glamour Less, I've decided to share with you a small sampling of web articles, blog posts, and general musings I found particularly interesting this week.  Happy reading!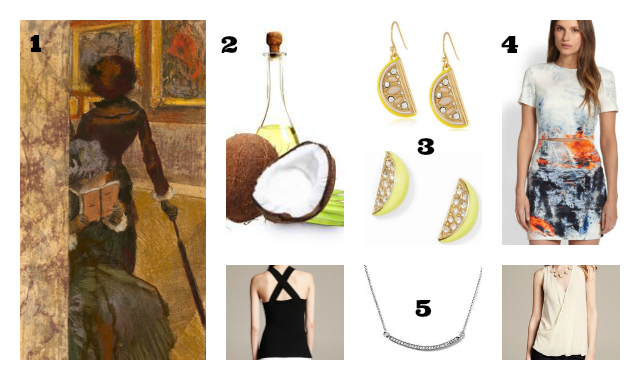 1.  A never-before-seen Degas/Cassatt exhibit opened last Saturday at the National Gallery of Art.  The show, described as "stunning" and "most exquisite," celebrates the artists' mutual influence through 70 of their works in a variety of media, and I can't wait to get there.  Luckily, there is plenty of time to check out this highly recommended exhibit before it closes on October 5.
2.  There's a new post up on Lauren Conrad's blog about the healthy benefits of oil pulling (a/k/a the ancient Indian folk remedy used for detoxification).  The blogger behind the article now swears by it — though she points out that it is a little hard to maintain the practice — and I have to say I agree having tried it in the past.  Form your own conclusions, but oil pulling may be something worth considering.
3.  I thought I was seeing double when I walked into Ann Taylor earlier this week and was met by a sea of lemon-inspired prints and jewelry.  It seems like I was just ooh-ing and aah-ing over such a darling spring line when I checked out Kate Spade's lemon-themed pieces several weeks prior. When life gives you lemons!
4.  Saks Fifth Avenue recently promoted gallery-inspired prints as a spring trend and featured Bec & Bridge, Clover Canyon, and 3.1 Phillip Lim (to name a few) in a carefully curated lineup.  Thoughts on being a walking canvas for abstract art?
5.  Banana Republic is advertising 40% off select full-price shorts, tees, tanks, etc. beginning 5/15 and running through 5/18 online (use code BRSUMMER — and some styles are even 50% off online) and 5/19 in stores.  Though I'm sure this will be only the first of many forthcoming Memorial Day sales, the brand has several worth-while basics (like this, this, and this) to restock your closet before the summer heat hits.