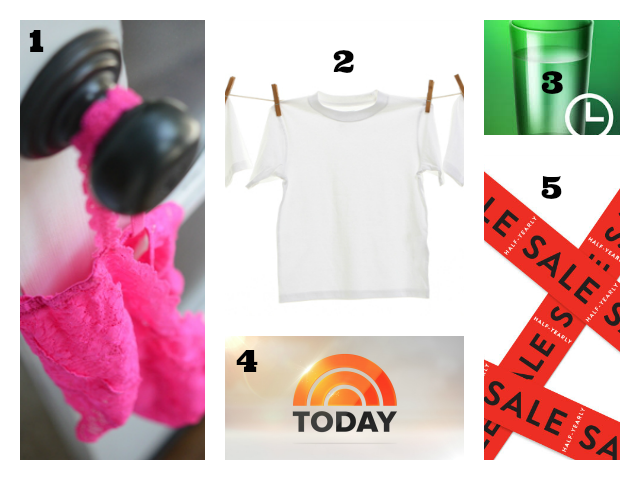 1.  Earlier this week, Cupcakes and Cashmere posted about her five favorite bras, and I couldn't be more excited.  As she points out, we often avoid the taboo topic of undergarments, but it's this topic that really needs some 'support' (haha).
2.  I recently stumbled upon a 2011 post on One Good Thing by Jillee that details how to rid your shirts of yellow armpit stains.  With summer fast approaching, this how-to may serve more useful than ever in tackling those (extra) lived in white tees and undershirts.
3.  The free Water Your Body app for Android calculates your optimum daily water intake based on your current body weight, and sends out regular reminders to log your water in order to meet your daily goal.  I've been using this app for about a month now and can attest to its usefulness, especially when I am caught-up in work and forgot to step away from the computer and pick up the water bottle.  (Sorry iPhone users, Water Your Body is not yet available for your phones, but here's another app that appears similar and has great reviews).
4. Washington is turning its eye to outlet stores as several senators are asking the FTC to take action against "misleading practices" at some outlets, citing that these stores often offer lower quality products under the guise of a discount. Do any of these claims ring true for you?  Get more info via the Today Show's 'Are Some Outlet Store Bargains Deceptive' video.
5.  As always, Memorial Day Weekend brings us pretty phenomenal summer clothing sales. Here's a roundup of my most-anticipated sales: Ann Taylor 40% select full-price styles in stores and online with no code needed (likely ends 5/26); Boutique to You 25% off with code ALOHASUN (ends 5/26); Banana Republic 40% off in stores and online with code BRHEAT (ends 5/26); C. Wonder 30% off select styles and 50% off sale styles in stores and online with no code needed (ends 5/26); GAP 40% off regular price styles* in stores and online with code EVENT (ends 5/26); J. Crew extra 30% off sale styles in stores and online with code PACKME (ends 5/24); LOFT 40% off all styles, including Lou & Grey, in stores and online with code MUSTSHOP (likely end 5/26); Neiman Marcus up to 40% off in stores and online with no code needed (Real Deal Sale ends 5/26); and finally, Nordstrom up to 40% off** (Half-Yearly Sale ends next weekend).
*GAP also has another special deal – $10 off your first reserved in store purchase (valid 5/7-6/30).
**Since Neiman Marcus and Nordstrom are both offering 40% off, I recommend doing a little bit of comparison shopping if you're looking to buy designer!