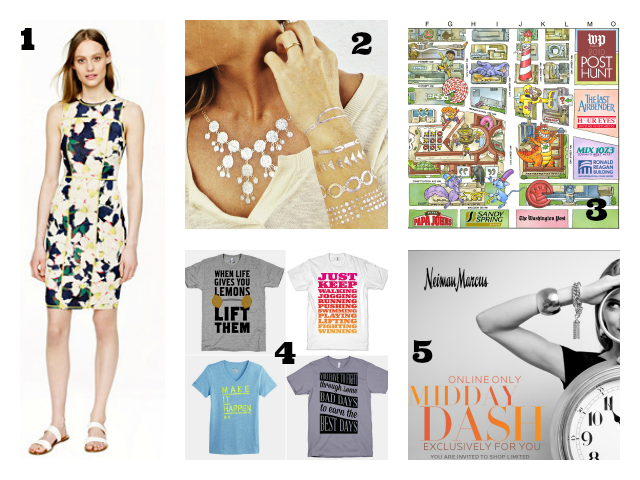 1.  Apparently neoprene is no longer just for wetsuits and swimwear as the material is popping up in everything from dresses and skirts to track jackets this season.  So, if you feel like a fish out of water wearing cottons and knits, swim over to J. Crew and Clover Canyon to get your neoprene fix.
2.  Flash-back Friday, folks.  It looks like temporary tattoos are making a comeback with Flash Tattoos.  These jewelry-inspired temp. tattoos have been picked up by brands, like Nicole Miller, and sites, like Boutique to You.  Thoughts on faux tattoo jewelry? 
3.  In DC this weekend?  Check out the Washington Post Magazine's Post Hunt on Sunday, June 1.  The roughly four-hour brainteaser/puzzle will send you on an equally amusing and befuddling hunt throughout the downtown area — and give you a chance at $2,000.  (Note:  The Hunt begins at noon sharp, but four years of experience have taught me to get there early and review that day's Post Magazine cover to cover while waiting for the official start.)
4.  If you're anything me like, you absolutely despise running and need a heaping serving of motivation to get out there and hit the pavement.  Luckily, Fitsugar brought us two posts this week that foster the running spirit with Pump-Up Playlist: Run 3 Miles in 30 Minutes and Motivational T-Shirts to Keep You Treading On.  Though the tunes for the road may prove helpful, I think the tees may just motivate me to go shopping.
5.  On a not-so-daily basis, Neiman Marcus promotes its Midday Dash sale, with 50-75% off a limited quantity of designer duds and free shipping from 12:30-2:29pm ET.  If you love shopping designer, this flash sale is definitely worth checking out.  Simply subscribe to Neiman Marcus emails to be included.