For those of you in Washington DC, you know that the weather this week has brought us everything from 90 degrees + humidity to lightning and torrential downpours — and this only prefaces what we can expect as we move into the summer months.   To gear up for the swamp that will be DC, I've been thinking about pieces I can add to my wardrobe that won't leave me running for the nearest air conditioner.  What's at the top of my list, you ask?  Hands down, it's embellished tops, and I've pulled together three styles at three different price points to suit your fancy.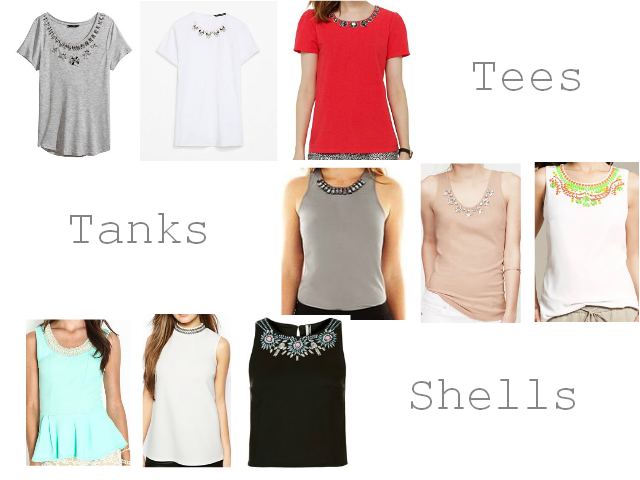 Tees
Save:  H&M Top with Rhinestones //  Spend:  Zara Top with Jewelled Collar  // Splurge:  Juicy Couture Embellished Tee
Tanks
Save:  Worthington Jeweled-Neck Tank  //  Spend:  LOFT Jeweled Necklace Tank    //  Splurge:  Banana Republic Embellished Tank
Sleeveless Shells
Save:  Love Culture Pearl Neckline Peplum Top   //  Spend:  New Look Embellished Top   //  Splurge:  Topshop Gem Neckline Shell
The last thing I want to do when the humidity is through the roof is to layer on heavy statement necklaces in order to complete my outfit.  Luckily, tees, tanks, and shells with embellished necklines pull double-duty by allowing me to nix the jewelry and showcase built-in accessories.  There are a wide variety of embellished tops out there covering different styles and making them appropriate for different occasions.  Beware of tops that are so heavily embellished that you might as well have piled on layers of necklaces to achieve your look.  I recommend sticking to tops with a single layer of bigger jewels gracing the neckline or smaller, lighter-weight gems that cascade from the neckline down the upper-half of the top.  Try pairing an embellished tee with a blazer for a business causal look, an embellished shell with a suit for a professional work day, or an embellished tank with basic shorts for a weekender look.
I do find two downsides to embellished tops:  (1) many fall into the 'hand-wash only' category, leaving them a bit burdensome to launder and (2) depending on the quality of the top, the jewels and gems may require reinforcement so their stitching doesn't fall out.  But, I consider these small prices to pay for a light and quick solution to dressing in the summer heat.
MORE FROM THE GLAMOUR LESS