The word's out — Nordstrom's Half Yearly Sale started last week, and fashion-enthusiasts everywhere are jumping for joy and flocking to their nearest stores.  This is the first year that I've lived within walking distance of a Nordstrom, so I've been popping in to scour the racks since day one of the sale. So far, I picked up share two incredible pieces that I can't wait to start wearing.
1.  Pour La Victoire Yves Medium Satchel in Navy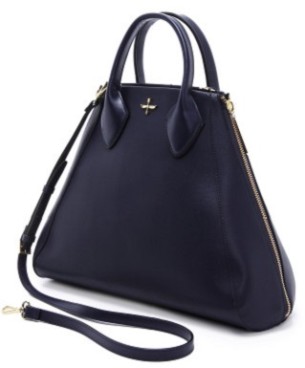 Though not the spring-iest of colors, this stunning navy bag caught my eye in a sea of discount designers as a classic, multi-season, work-appropriate bag.  Its unique shape opens up into a roomy tote in which I can store everything from work documents to an extra pair of shoes.  This purchase is the start to a newfound Pour La Victoire obsession.
Note:  The Yves bag also comes in the most beautiful evergreen color with tan top handles, and if you're able to find it (it's been sold out everywhere), I highly recommend snatching it up as quickly as possible.
2.  Trouvé Ponte Knit Midi Dress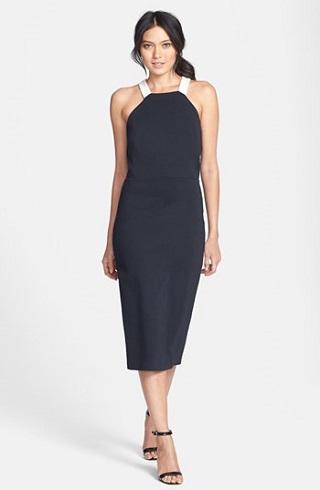 This versatile dress has recently proven itself as a blogger favorite (check out Capitol Hill Style and Penny Pincher Fashion), and I've been tracking it online since well before it was marked down to 40% off.  If you're picking up this dress at the Sale, I recommend trying your usual size as well as a size up.  It's likely that both sizes will fit, which leaves you room to decide if you favor a looser or more form-fitting dress.
Word of warning to tall girls:  it's doubtful that the Trouvé dress will fit like a true midi on anyone 5'8″(ish) and above, but it should still hit at about knee-length.
Another note about my shopping experience: For the first time, I attempted to use Nordstrom's order online, pickup in-store feature.  Unfortunately, this process did not work too well for me (Nordstrom cancelled my order and I had to reorder with regular shipping), but I still recommend giving it a try. Ordering online and picking up in-store can eliminate the stress of missing out on your must-have item by waiting to shop solely in-store and keeps you from having to wait up to 10 days for it to arrive by mail.
Nordstrom's Half Yearly Sale ends 6/1.