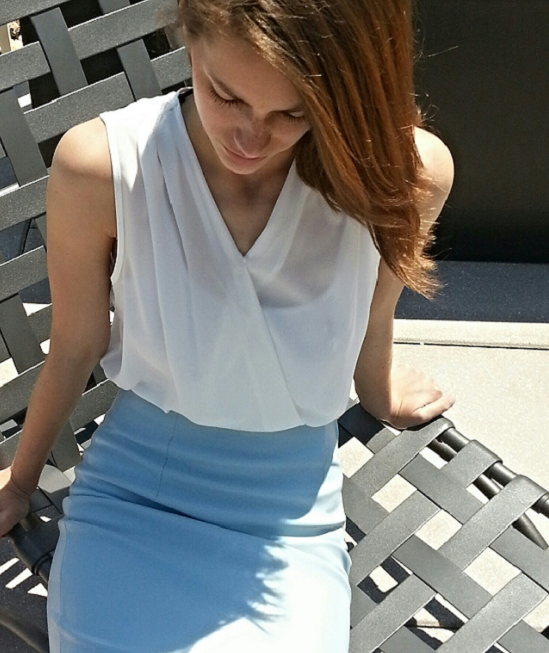 I'm excited to share my inaugural post in a new series dedicated to my pursuit of trying the latest trends.  We all know that the most 'trendy' pieces aren't always the most practical for our lifestyles or compatible with our body types.  So, I'll be picking one current trend each month and attempting to recreate it in an everyday, average Jane fashion.  Some trends will succeed, while others — I presume — will not be as lucky and will be banished to the back of my closet.
For this month's post, I chose to focus on the world of leather, which resurfaced as a major trend around fall of last year and has stayed popular ever since.  Whether it's genuine, faux, or vegan, it seems like everyone from high-end labels to discount retailers have gone from using the material as an accent to featuring it their lines.  I tend to shy away from wearing a lot of leather, in part because of the high price tag for genuine pieces or the subpar quality often found with faux leather (cue flashbacks to '90s pleather).  But since this current trend has taken off, I've found that many more high-quality and affordable faux pieces are moving to the forefront.
To make this leather look work for me, I knew my pick had to meet certain criteria.  It needed to:  (1) be nine-to-five friendly and (2) easily transition from day-to-night and/or weekday-to-weekend. Luckily, I found a knee-length, pale blue, faux leather pencil skirt at Zara that can pair with anything from a sophisticated blouse to a plain white tee.  To top it off, this skirt helps lighten up my spring wardrobe and also plays to the ever-popular trend of spring pastels.  All in all, I have to say that this trend trial is a success!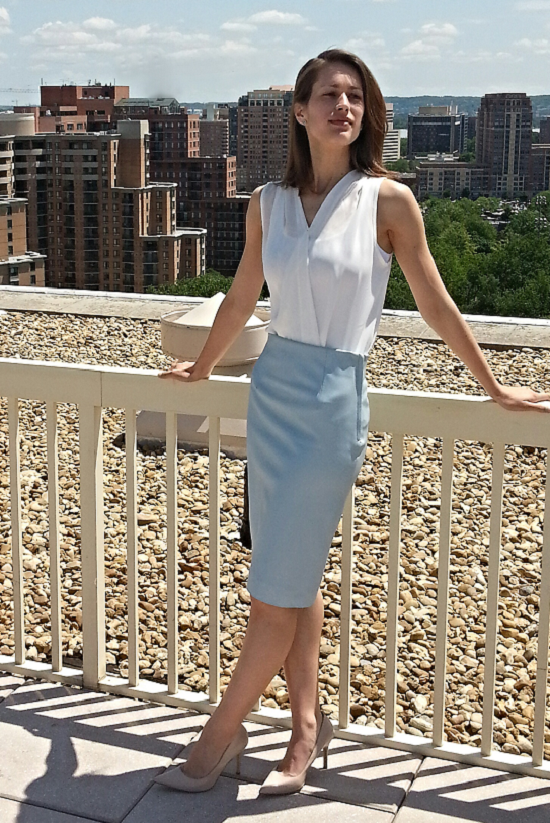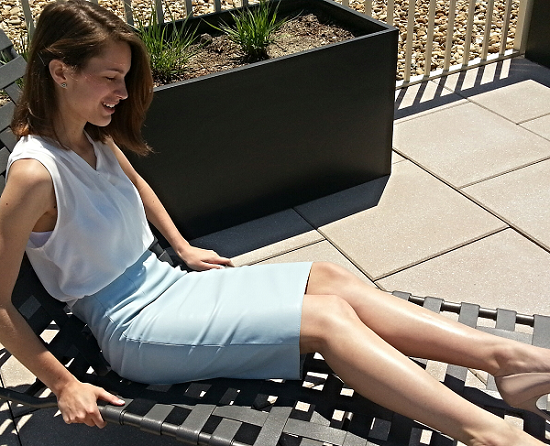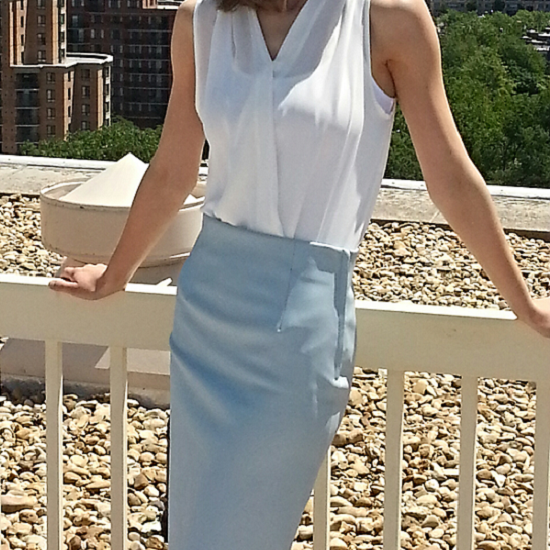 Zara Faux Leather Tube Skirt  //  Forever 21 Surplice Top
Tips for wearing faux/vegan/genuine leather at the office:
Lighten up.  Traditional black leather or other darker hues will be much more likely to give off a biker chick vibe, so stick with lighter colors.
Stay away from patent.  Other than for shoes and handbags, high-gloss patent leather is simply not something you want to be wearing as a skirt, dress, shirt, etc.  Talk about highlighting any problem areas!
Keep it conservative.  Because you're already wearing an edgier material, be sure to embrace longer hemlines to make your ensemble solidly office-appropriate.
Leather Up!