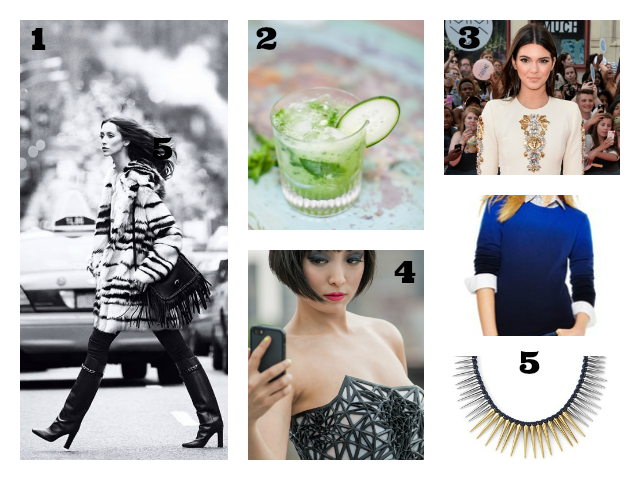 1.  Liar liar pants on fire to all you fashion girls out there.  Yesterday, Lauren Fisher for Harper's Bazaar divulged the 10 Lies Fashion Girls Tell in her short listicle.  Spoiler: If I tell you I'm on my way, realistically it really means I just got out of the shower.  What's a little white lie?
2.  When craving something fresh, I look no further than a plain and simple cucumber — cucumber slices, cucumber salad — any form of cucumber will work for me.  This affinity also carries through to my cocktail preferences as cucumber offers a  great alternative to the many sweet and sugary drinks out there.  Check out this cucumber-honeydew blender and this green machine on the rocks.
3.  By this point, we've all seem more of Kendall Jenner than we ever thought we would (seriously, she's only been of age for a couple months now).  Leave it to BuzzFeed to put the perfect spin on her rather revealing MuchMusic Video Awards ensemble.         
4.  Another foray into wearable tech this week with a new creation called x.pose.  This "wearable data-driven sculpture," which resembles a spider web-like bustier, fades away as you compose social media posts, simultaneously exposing you physically and virtually.  Interesting social commentary. (h/t Elle)
5.  Sale alert!  Take an additional 50% off C. Wonder's sale styles with no code needed. Maybe it's time to get that ombre cashmere sweater I've been coveting from a distance.  I'm also digging these rainboots, this necklace, and these tuxedos.
UPDATE:  C. Wonder has launched its semi-annual Big Wonder sale with 70% off final sale, 50% off summer styles, and 30% off select bags!  Even more reason to shop 'til you drop!