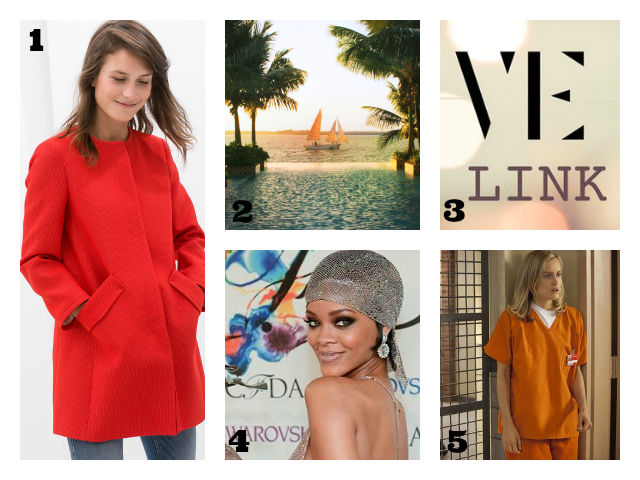 1.  I'm not very fond of the fact that pre-fall lines hit the racks just when I'm getting into the swing of summer.  It makes me feel like my swimsuit-wearing days are slipping away faster than I can say "cannonball!"  That being said, Zara really hit it out of the park with their new outerwear options.  I'm loving these poppy red and canary yellow crewneck coats and this combined faux leather blazer.          
2.  Need a vacation?  Of course you do.  This Fast Company article spells out how taking time away from the office can actually help you improve at your work.  Two tickets to Cabo, please!
3.  I recently stumbled upon Nichole Ciotti's lifestyle blog, Vanilla Extract.  Her posts range from OOTD-style photos to beauty tips for the lazy girl – and have just the right amount of spunk (not to mention that her hair is just fantastic).  Definitely a blog worth checking out.
4.  Rihanna's CFDA Awards bare-all number is all anyone can talk about.  But not only can you see every inch of her body in the Adam Selman dress, you can also see her twerk in it.   And apparently this is news, folks.
5.  And now for the moment everyone's been waiting for…season 2 of Orange is the New Black premieres on Netflix today!  If you need a season 1 refresher before starting your OITNB binge, Refinery 29 has a quick eight-slide course.  Happy watching (please no spoilers)!