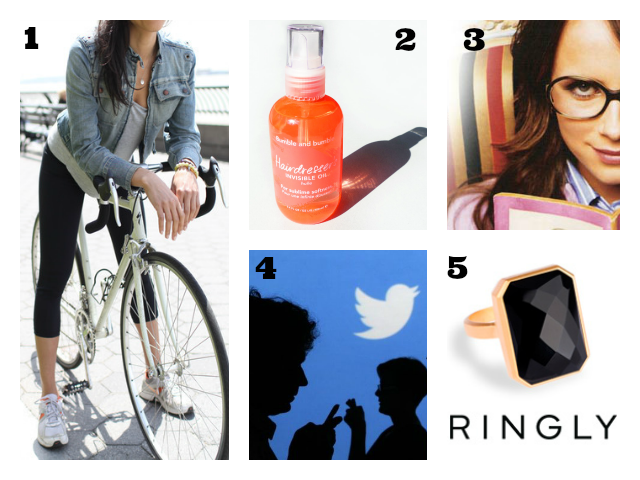 1.  Ever #gocommando…at the gym that is?  The folks at Dear Kate engineered a new type of yoga pant that is designed to let you workout sans skivvies, and Refinery 29 took at crack at it (haha).

2.  As a girl with sometimes wavy, always frizzy hair, Bumble and bumble's Hairdresser's Invisible Oil is my little-goes-a-long-way lifesaver.  Work one, maybe two, pump(s) through the body of your hair, add a little dab to your ends, and you'll see a world of difference. Invisible Oil gets The Glamour Less seal of approval.
3.  Narrow-faced, glasses-wearing girls rejoice! Kate Spade's line of prescription eyewear is made just for you.  After years of struggling through a laborious frame-selection process, I was able to settle down with these Kate Spade Edie beauts in about 10 minutes flat.          
4.  Another Fast Company article this week — this time covering the latest in Washington hoopla.  The title of the article reads, "The Secret Service is Seeking Sarcasm-Detecting Software for Social Media."  Need I say more?
5.  I admit that I constantly miss calls because my phone is buried at the bottom of my bag (ask the boyfriend; it may be one of his biggest pet peeves).  But come Fall 2014, my problem should be solved when Ringly launches its first programmable cocktail ring that buzzes when you get notifications on your phone. Bonus:  Pre-order now and get 25% off the retail price.