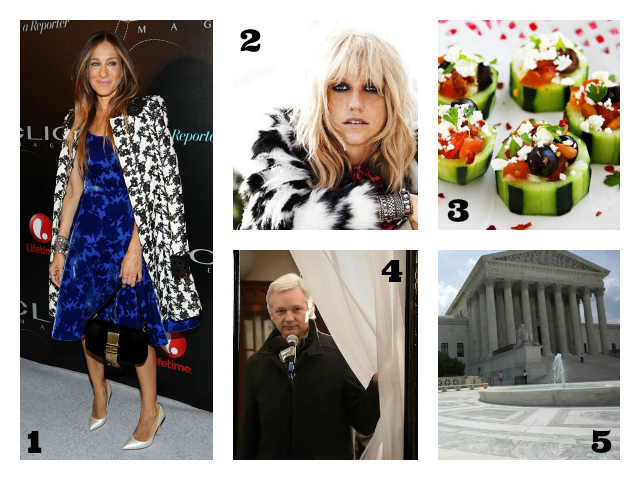 1.  SJP is coming back to TV – this time in a show based on the book, Busted, A Tale of Corruption and Betrayal in the City of Brotherly Love.  Wonder if this role will let her stay true to her style-icon ways?          
2.  In an article about Kesha's upcoming Teen Vogue cover, Refinery 29 asks, "Are freckles making a comeback?"  Call me old-fashioned, but I wouldn't consider flaunting freckles a trend.  Either you got 'em, or you don't!
3.  Yep, I'm still on a cucumber kick.  If you're seeking something other than salad for your daily greens, try out these Mediterranean cucumber cups.  They're super simple to make, and I've found them to be a crowd pleaser.  (P.S. As a follow-up to last week's cucumber cocktails, I found this recipe for a cucumber lemon drop that looks — and probably smells — too good to pass up.)         
4.  What in the…?  Style.com reports that Julian Assange (a/k/a Mr. WikiLeaks) will be strutting down the runway come London fashion week in September.  It appears that Vivienne Westwood's son, Ben, tapped Mr. Assange for a show at London's Ecuadorean Embassy to highlight the notorious journalist's "plight."    
5.  On Wednesday, the Supreme Court unanimously ruled that police officers (generally) need warrants to search the cellphones of individuals they arrest.  Equating phones to people's lives, Chief Justice Roberts stated in the opinion of the Court that "the proverbial visitor from Mars might conclude they [phones] were an important feature of human anatomy."  I have yet to decide whether this really is a major win for privacy in the digital age, or if it's merely a reflection of the sad state of contemporary social interaction.  Humph.   
Bonus:  Get ready for all the Fourth of July sales coming your way next week.  But if you need to hit the racks before then, check out these early-bird sales:  Ann Taylor 50% off store-wide, including new arrivals (ends 06/29); GAP 40% off select styles (ends 06/29); and Kate Spade extra 25% off sale items (ends 07/06).