Let's set the scene:  You live in an area where you must walk at least part of the way to work.  It's hot; it's sticky, and you just want your feet to breathe before being cooped up in an office all day — or — you're racing to make it into work on-time, which has incidentally transformed you into a champion power walker.  In either case, comfort during your commute is your top priority.  So what do you do?  You strap on flip flops or sneakers and set off on your merry way.
::Gasp::
I've seen everyone from interns to management commit this business-attire indiscretion (and may or may not have comitted it once or twice myself).  But there is hope.  Just nix the flip flops and sneakers and embrace these shoe solutions: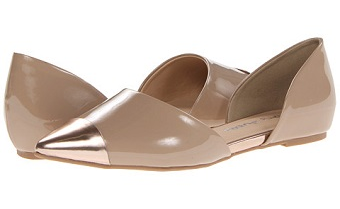 1.  D'Orsay.  I'm a known supporter of the d'Orsay flat (see April's post, Feeling Flat).  D'Orsays are a solid wear-to-work option with their sleek silhouette that still allows for a fair amount of air flow.  Look for d'Orsays that provide full coverage in the toe region to limit irritation or discomfort brought on by long-distance walking.  I'm loving this cap-toe pair by Chinese Laundry and these Ivanka Trump beauts.
2.  Peep Toes.  Another option that keeps your feet breathably beautiful, peep toe flats are a non-sandal summer go-to.  I'm not crazy about pairing peep toes with pencil skirts (and definitely not suits), but they're a viable option when it comes to cropped pants and non-fitted skirts and dresses (think fit and flare).  Nine West also has a combination d'Orsay/peep toe option that is worth exploring.
3.  Smoking Slippers/Loafers.  With the right pair, slippers and loafers may be the most comfortable (though not the breeziest) option in terms of commuter shoes.  I'm fond of these understated black and white and black and tan pairs.
If you cannot bear parting with you flip flops or sneakers, here are two milder deviations:
4.  Flip flop Alternative — Caged Toe Sandals.  Much dressier and more office appropriate than flip flops, closed-toe cages let you get away with wearing sandals without bringing your outfit down to an unbecoming and unprofessional level.  This pair by New Look strikes a good balance between casual and dressy.
5.  Sneaker Alternative — Boat or Canvas Shoes.  Sub out your Nikes for Sperrys or Keds if you really need a sneaker-like option.  These shoes aren't quite as casual as athletic sneakers, and there are many new, jazzed-up options from which to choose.  I highly recommend the Keds-Kate Spade collaboration.  (Word to the wise:  Sometimes boat or canvas shoes require a substantial breaking-in period; as such, it may actually be more comfortable to go with one of the other options above.)
MORE FROM THE GLAMOUR LESS