Another new type of post coming at you today with the start of Splurge v. Save!  Since this isn't a new concept, I won't bore you with a long-winded explanation, but I will tell you what I'm doing with these posts that strays slightly from the norm.  With my 'Save' picks, I may not necessarily choose the least expensive item out there (because let's face it, sometimes cheap price = cheap quality), but through a combination of store sales, coupons, promo codes, etc., I'll show you how to get the 'Save' to a much more reasonable price without sacrificing all the quality of the more expensive 'Splurge' item.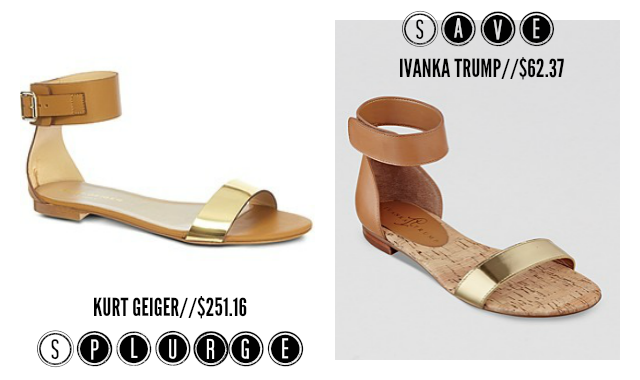 Splurge:  Kurt Geiger Lane Leather Sandals in Gold Comb
Save:  Ivanka Trump Sunny Sandals in Gold/Tan

Who doesn't need a little neutral, flat sandal in her life?  This sleek ankle-strap sandal can easily cross the summer style spectrum and be paired with anything from a simple sundress to denim cutoffs to a flowy beach coverup.  But why pay in the triple digits when you can get it for less than a quarter of the price?!
I had my fair share of metallic sandals from which to choose when hunting for my 'Save' option, so I made comfort a top priority.  The leather upper and cork sole of the Ivanka Trump sandal allow it to form to your foot for a more comfortable wear, and the use of a velcro ankle strap eliminates any potential irritation caused by a zipper at the back of the heel.  Though this sandal retails for $99 at most department stores, it's on sale at Bloomingdales right now for $69.30 and is up on Zappos for $69.99.  Subscribing to Bloomingdales' emails will save you another 10% on your first online order, bringing the price down to 62.37!
Need More Metallic?
MORE FROM THE GLAMOUR LESS