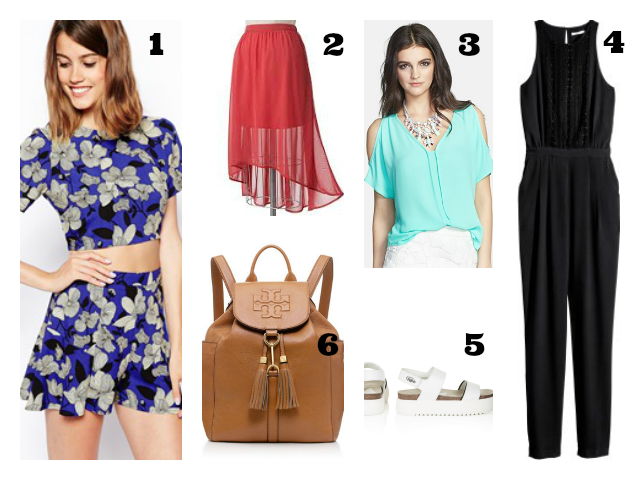 In a slightly different take on Trend Trials this month, I'm bringing you a list of trends that I wish would disappear just as fast as they came to be.  Though I haven't tried out each and every one, my spidey sense tells me that these trends are often unflattering, unappealing, and unworthy of our valuable fashion time.
1.  Crop Tops.  I may be in the minority when I say that I.hate.crop.tops.  These barely-there half-shirts/stomach exposés simply don't translate well from celebrity and blogger style to fashion for the average woman.  Granted, I loved Emma Stone's Met Gala cropped number, but there is absolutely no way I or any of my fellow working women could or should attempt to sport the crop top in everyday life.  (I won't even get in to how unacceptable crop tops are in an office environment, even with high-waisted skirts.)  In my humble opinion, let's stop trying to make 'crop' happen.
2.  High/low skirts, or as I refer to them as mullet skirts, are a trend that must have nine lives.  Their demise was predicted years ago, but they just will not seem to die.  My thoughts? Keep these skirts around, but strictly for ice skater and dance recital costumes.  Luckily, this trend finally seems to be on the way out with the rise of pleated and full midi skirts.
3.  Cold Shoulder Shirts.  Ladies, beware. These 'where-did-the-fabric-go' shirts often make your arms look larger than they actually are in the worst way possible.  If you really want a shirt of this nature, turn your attention to a nice keyhole blouse.
4.  Jumpsuits.  Whether in romper or full-length form, these shapeless garments do nothing for the female figure — and they add a solid 5-10 minutes of bathroom time wresting with and adjusting the usually cheap fabric.  I consider jumpsuits the ultimate 'women-dressing-for-other-women' item as I'm sure most men would agree that this highly impractical trend makes little sense.  So ladies, let's leave jumpsuits (a/k/a onesies) for the babies in our lives.
5.  Platform Flats.  Whether in sandal or sneaker form, I just don't understand this trend at all whatsoever.  To me, these shoes look like bricks strapped to the bottom of one's feet.  And though I assume they are not as heavy as bricks, I still can't imagine how platform flats could be all that comfortable.  (Maybe I can travel back in time and ask my 1997 self.)
Bonus:  Backpacks.  The past couple of seasons brought with them the revival of luxury backpacks (see Tory Burch, Gucci, and Jason Wu to name a few).  This is one area where I'm okay sacrificing practicality for style by sticking with my one-shoulder tote.
What trends are you ready to send to the big closet in the sky?
MORE FROM THE GLAMOUR LESS