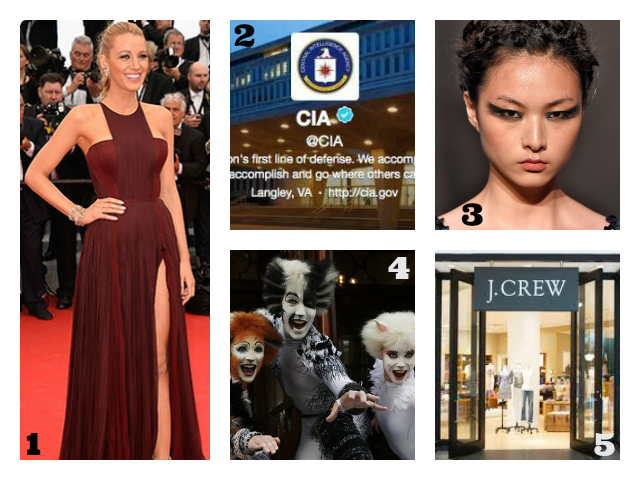 1.  Blake Lively, red carpet extraordinaire and my Queen B (or S), is finally launching her lifestyle and e-commerce website at the end of the month.  Come July 23, we will be able to dip into "curated fashionable items," recipes, and probably a handful of other things I'm set to swoon over.
2.  In need of a new twitter account to follow?  Check out the CIA.  The intel agency just celebrated their one month #twitterversary with several humorous tweets directed at everything from forgotten passwords to Ellen DeGeneres.  Spoiler:  No, they don't know where Tupac is.
3.  Move over cat-eye, there's a new animal-inspired makeup style in town.  The swan-eye, spotted at Paris Couture Fashion Week, takes the winged look to the next degree by covering both the inner and outer corners of the eye and extending far into the temple.  Not sure if I could (should or would) pull off this dramatic look.  (h/t Refinery 29).
4.  Speaking of CATS, Andrew Lloyd Webber's musical is set to return to London's West End this winter, this time with a rapping revamp of the Rum Tum Tugger street cat character (because why not?).  As a former Demeter in a local staging of the hit show, I couldn't be more excited.  Jellicle cats come out tonight…
5.  I'm honestly not sure on which side of the aisle I stand when it comes to the whole J. Crew size xxxs/000, vanity sizing debate.   Believe me, I find vanity sizing just as ridiculous and complex-evoking as the next blogger.  But if companies are going to insist on producing items that run big, then at least there will be some smaller sizes from which to choose for those of us who don't want to go swimming in our garments.  Check out Capitol Hill Style and J. Crew on Today for insights into both sides of the issue.
P.S. Happy birthday, W!