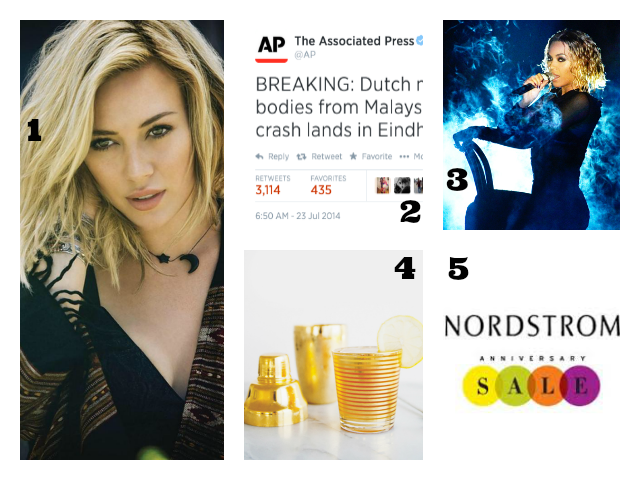 1.  Am I excited for Hilary Duff's return to music?  You betcha!  I have no shame in admitting I was a 'So Yesterday' and 'Come Clean' fan back in the early 2000s.  And did I mention how amazing she looks in the promo photo for 'Chasing the Sun!?'  You go H. Duff!
2.  The power of commas, folks.  I, too, thought the worst when reading this AP tweet.
3.  Yesterday, Refinery 29 posted a how-to video for achieving the wet hair look.  1.  We can't all be Beyoncé.  2.  If I want my hair to look wet, I will literally walk out of the house straight from the shower.  In other words, I think I'll pass on cementing my hair down with spritz, spray, and gel.
4.  If you're into spiked iced tea (I mean, who isn't?), check out this gin, earl grey, and ginger ale version on domainehome.com.  I'm thinking it's going to be a new summer favorite.
5.  I still haven't made it over to Nordstrom for their killer Anniversary Sale, but when I do, I'll be sure to pick up one of these, one of these, and a pair of these!