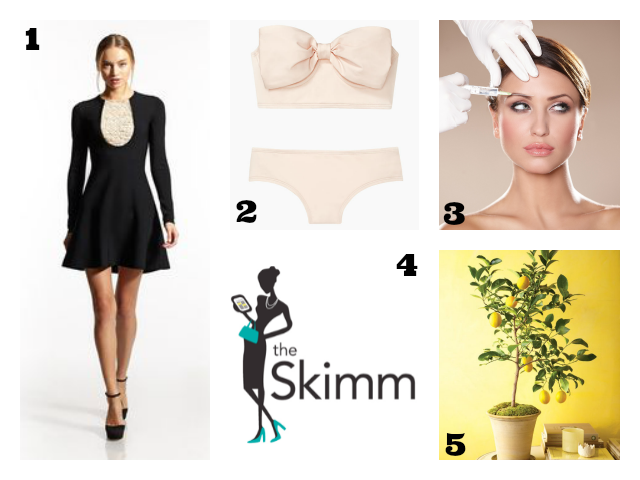 1.  The fit-and-flare silhouette, just-the-right-amount-of-leg hemline, and from-a-bygone-era lace insert make this Valentino knit dress one to swoon over.  Oooh and aaah over the rest of the Valentino Fall 2014 runway here.
2.  Already thinking ahead to summer 2015, I can barely contain my excitement for Kate Spade's freshly announced swimwear line.  Think '60s glam, bold bows, and cheeky idioms.  (h/t Fashionista)
3.  What's the worst kept secret in Washington?  Of all the options from which to choose, the Washington Post picks cosmetic surgery as their numero uno.  Read more about the refined, subtle improvements gracing the foreheads of Washington's finest.
4.  Haven't subscribed to theSkimm yet?  Well, then it's time to jump on the bandwagon and check out their short, sweet, and witty emails full of the hot topics du jour.
5.  I was in no way born with a green thumb, but this Apartment Therapy instructional makes me believe I can endeavor to grow a lemon tree in my apartment.  Fingers (or thumbs) crossed!
Bonus:  James Mischka and Mark Badgley of Badgley Mischka hosted an AMA on Reddit yesterday.  Their sometimes hilarious, always heartfelt answers make me love this label even more.