The Glamour Less is back at it after a short delay earlier this week.  Between a fireworks-filled Fourth of July and stormy weather that knocked my power out for hours on end, blog posts had to take a temporary hiatus while life took over for a moment.  But that all seems to be over now, and I'll be bringing you two posts to close out this week and should be back to regular posting thereafter.
About two weeks ago, I took the plunge and ordered a handbag online through MyHabit (which, if you don't subscribe, is Amazon's response to Rue La La, Gilt, etc. and is a great place to discover new brands).  I say "plunge" because I'm rather averse to ordering clothing and accessories online without first viewing them in-person or knowing a bit about the brand, but at that point, I had been handbag shopping for so long I felt desperate enough to risk it.  A little backstory:  Since May, I had been searching for a small but sturdy crossbody bag that could become my summer go-to.  I wanted something I could take with me to casual events, like farmers' markets, outdoor movies, and patio brunches, and I knew I wanted my bag to be genuine leather at a reasonable price.
Enter:  the Foley + Corinna Framed Mini Crossbody in Whiskey.
I wore this bag in my recent Wear To – Fourth of July post, but after using it for about a week straight, I realized it deserved a feature all its own.  The warm hue of the bag reminds me slightly of a gingersnap (or in this case, whiskey), while the leather is soft enough to serve as a makeshift pillow.  The bag itself can hold my full-size wallet, keyring, phone, and assorted bobbypins/lip balms without feeling overly large or cumbersome or making me feel weighed down by the sheer mass of carrying my daily necessities.  Moreover, upon receiving the bag, I reached my hand into the inside pocket to find nothing more than a travel-sized mirror complete with a little carrying case and all.  Oh, and did I mention I got the bag for only $89 from MyHabit, a discount of more than $100 off the retail price!?!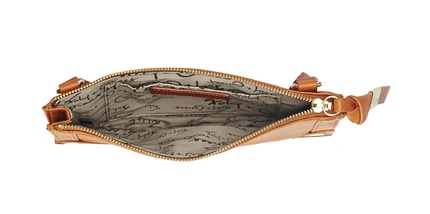 The bag, just like the Foley + Corinna brand, gives off an understated and sleek vibe, with its simple zipper closure and metal-adorned corners.  This is the type of bag that will never make me choose between style and practicality.  Thanks, Foley + Corinna; I'm head-over-heels for you!
More Foley + Corinna