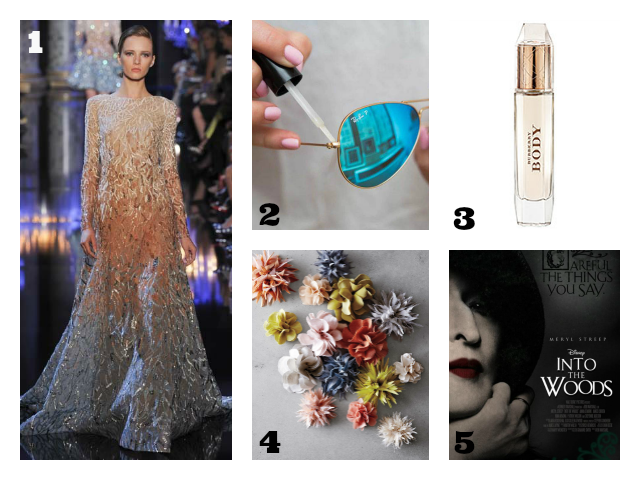 1.  This dress is incredible.  Elie Saab, I could stare at you all day.
2.  Some of these fashion hacks are old news (I surmise ladies have been fixing runs in their tights with nail polish since Sputnik), some are a little too much to handle (spritzing vodka on my skirt, please only on a Saturday night), and some seem downright useful (nail polish on my sunglasses, here I come). Is it bad that I want to spill some red wine just so I can see if white will clean it up?  Did someone say wine?
3.  In need of a go-to fragrance?  I highly recommend Burberry Body.  It's by no means new news, but is such a clutch player that it deserves to be recognized.  Celebrated, even.
4.  These DIY fabric flowers would make just darling baby or bridal shower decorations.  But they also seem like a fair amount of effort…
5.  How did I miss that the movie-version of Sondheim's Into the Woods is opening on Christmas Day!?  Streep and Kendrick and Depp!?  Check out the trailer here if you can manage to stay afoot during all of this excitement.